I wasn't there when the telephone became a pervasive technology but I wonder what the evolution of it was for people in leadership. Company X buys a phone because they heard that it would be useful in some way for them to make more money. They aren't completely sure why but they dive in anyway?
Here's the question I have: Did the executives hire people to talk on the phone for them?
If they did, when did it become commonplace for executives themselves to actually talk on the phone?
This thought seems a bit ridiculous to us now (at least I hope it does). But that's how we treat communication technology today. We need to get past this paradigm where there is a huge gap between those who create content (pastors) and those who operate the technology to distribute it (designers, video gurus, web guys, etc).
I have jumped the gap. I started my career as a youth pastor and eventually a church planting pastor and in the last few years I have fully immersed myself in technologies that help me do my job better. I won't try and convince you of the benefits of using technology and the Internet to have more presence in people's lives and to distribute content more efficiently. You should already be there.
There are two issues that bug me right now in the church world:
#1: Too many pastors lack the basic abilities to use modern communication tools and in turn have to rely on other people, which is inefficient at best and irresponsible at worst.
#2: Too many tech savvy people lack the basic abilities and/or the freedom to create content and shape the voice of their organizations, which is a squandering of their gifts.
We have this massive gap between content creators and technologists. What will it take to jump this gap? How can we encourage pastors and content creators to jump in the game and start realizing what they can truly accomplish with these tools? How do we empower scores of people who are already skilled in using these tools to start shaping the message?
This is the first steamboat designed by John Fitch: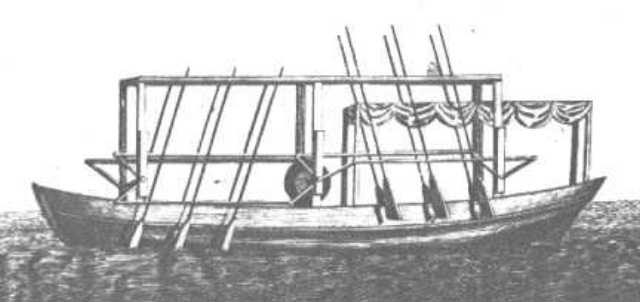 Fitch simply took a steam engine and crammed it into a boat with oars and as you can see, it sucks! (hat tip to Clay Shirky)
I wrote Context and Voice based on my experience jumping the gap from being a pastor to a pastor who can navigate modern communication tools. I want other pastors to jump this gap as well and see technologists grasp an understanding of where pastors come from especially in terms of content.
I want to ask you: Are you seeing progress in your church in this area? If not, what's it going to take?
More: