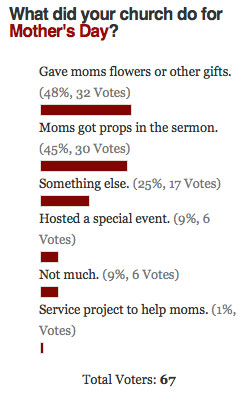 Last month we looked into what churches did for Mother's Day and then asked what your church was up to. The most popular options were bribery (flowers or other gifts for mom) with 48% and props in the sermon with 45%.
On the low end, 9% of churches hosted a special event and another 9% did not much (ouch). A full 1% did service projects to help moms.
Another 25% of you did something else—what Mother's Day plans did you have?
(Poll voters were allowed to choose multiple options, so the percentages don't add up to 100%.)