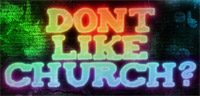 At some point in the life of almost anyone attending or running churches, a strange thing happens. We become confused. We forget the unique business that we're in, and we decide we're no different from the pizza joint down the street.
And what do we do? We compete. It's happened many times before with the church sucks campaigns. This view is so common there's even a new speaking tour that bills itself as "pro-church."
The latest example is Don't Like Church. A church in Detroit recently started a head-scratching campaign. Particularly curious is the juxtaposition of the giant "Don't Like Church?" and "Click here to visit Our Church!" banners. The focus of the site is a video contest:
The "Don't Like Church" contest is a video contest to create the best video that illustrates why people don't like church.
Essentially, you submit a video that explains what you hate about church, and if your video is the "best," then you could win $500.

They provide some tips, my favorite:
5. Express why you DON'T like church. If you DO like church, just illustrate why other people don't.
Again with the pizza joint analogy: We feel we have to emphasize how much everyone else's pizza sucks so people will try ours instead. But we're not in the pizza business. We're in the business of letting people know us by our love for one another.
Remember this next time you're thinking of being ground-breaking and edgy with a campaign about hating church and church sucking: Churches are run by humans. You've been hurt, I've been hurt and your neighbor has been hurt. Making people feel like things will be different at your church and they won't be hurt? There's a simple phrase for that: false advertising.
It can be helpful to understand and acknowledge why people might not like church. But there's a difference between learning from those lessons and beating each other with them. Let's love one another, gracefully apologize for all the wounds we've caused and our brothers and sisters have caused, and move away from all the competition.