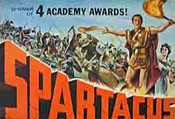 Mars Hill Church in Seattle is pulling out all the stops this spring, but it's not for Easter. It's for Good Friday.
Their creative team is putting together a 30-minute film about Good Friday. The church's creative director, Jesse Bryan, and pastor, Mark Driscoll, collaborated on the script. It was shot on the set of Spartacus at Universal Studios in Hollywood and features the talents of a production designer from the TV show 24 and a make-up artist who worked on such films as The Passion of the Christ, No Country for Old Men and Flags of Our Fathers.
"The purpose of the film is to make the horror and eternal weight of Good Friday more vivid," says Nick Bogardus, who handles PR and media relations for Mars Hill. "Whereas The Passion may have tried to tell the story with chronological and historical accuracy, we're trying to make the theological weight of the event–the substitutionary death of the Son of God in our place for our sins–as vivid as possible."
They'll be showing the film at two services on Good Friday and streaming it online for free. They hope to make it available to other churches next year.
"We hope people see it and really feel that the cross was something done by us and for us," says Bogardus.
What Easter (or Good Friday) plans does your church have this year?