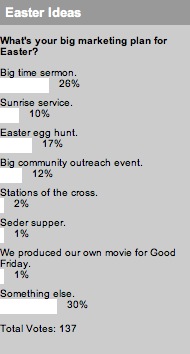 We're just around the corner from the annual celebration of the first Sunday after the first Friday after the first full moon of the spring equinox. Humans have come up with a hundred different ways to celebrate this day–everything from chocolate bunnies to resurrection dramas. With that in mind, we asked you, loyal reader, how your church plans to celebrate the resurrection.
The big winner? Something else. You're breaking out of the box and paving your own road for Easter. So let's hear it in the comments, what are 30% of you doing who didn't fit in with any of our options?
Just behind that, 26% of you are planning to drop a modern-day Sinners in the Hands of an Angry God. A big-time, show-stopping, summer blockbuster sermon that's going to go down in history.
After that, 17% of you are keeping it calm and kid-friendly with an Easter egg hunt in honor of Mary and Mary's hunt for Jesus. And another 12% are focusing on your community with some form of service or outreach.
10% of your churches are holding a sunrise service, which may or may not (depending on whether you sport a church marquee) be publicized as a "Son-rise" service.
After that, it's just the lonely few. 2% are observing the stations of the cross, 1% are having a seder supper and 1% are producing your own film.
This week, we're headed for hot topics. Has your church ever found itself in a media firestorm?