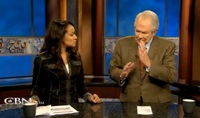 Church Marketing Sucks is no stranger when it comes to covering conversations about stupid things Christians say. From Sponge Bob and gay tolerance to suggesting the U.S. assassinate Hugo Chavez, we have a lot to learn when it comes to communicating better.
This week, Pat Robertson provided further fodder for the already fearsome fire he is known for fueling. In case you missed it, Robertson implied that the January 12 earthquake in Haiti was tied to an 18th century pact with the devil. During the slave rebellion of 1791, Vodou priest Dutty Boukman performed a ceremony at Bois Caïman, apparently making a pact with the devil in exchange for victory over the French. According to Robertson, "the Devil said, 'OK, it's a deal.'"
To be fair, although Robertson did cross the line in his implication, he seemed to exit that part of the conversation and move on toward rallying people to pray for and give to the people of Haiti. A spokesman for CBN later said that "Dr. Robertson never stated that the earthquake was God's wrath."
I'm not here to beat-up on Pat Robertson. He does a pretty good job of that himself.
The main reason to bring this up is to remind ourselves yet again how nutso we look when we say things that have no place in the public conversation. It's one thing for Robertson to wrestle with the sovereignty of God. It's quite another to suggest he knows specifics about how the devil or God operates when it comes to natural disasters.

I was in Haiti two years ago this week. I spent nine days there with my wife and family, just miles from where the epicenter of the earthquake hit. I saw firsthand the influence that Vodou has on this nation. It's difficult to ignore the link between their traditions and their deep-rooted fear.
I also witnessed the love of Jesus Christ at work in the lives of hundreds of Haitian people. I got a picture of what "church" can really be. I saw people unconstrained by the reality of poverty, living lives of radical generosity.
To suggest that Haiti's extreme poverty or epic tragedy is a result of God or the devil is not for you or me to say. It is our responsibility to communicate the character of a loving God who calls us to care for orphans and widows, to feed the hungry, to welcome the stranger, clothe the naked and look after the sick.
That's a story worth telling.