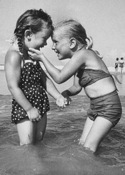 I saw this over the weekend from a church in Eagle Rock, Calif., about eight miles outside of downtown Los Angeles. Christian Assembly has been in Eagle Rock for decades and although the size of the church community has grown substantially, they refuse to move or expand their current "campus" (if that's what you call a cluster of rag-tag houses, mobile dwellings and offices crammed into a corner lot, steps away from a busy street). The sanctuary looks the same today as it probably did 30 years ago, including the carpet and pews. Love it.
In their weekly bulletin, which includes announcements, a ministry spotlight, sermon notes, a financial summary and core values, there was a section titled "How we play nice at [Christian Assembly]."
How we play nice at Christian Assembly
1. We park at the mall because we don't want to upset our neighbors by blocking driveways or crowding streets.
2. We are a big family so we wear name tags.
3. We give up any saved seats at the greeting time because admit it, they aren't coming.
4. We reserve the last two rows of the section in front of the upper room for parents accompanied by small children… they might need a quick exit.
5. In our church family everybody serves in some way.
I'm drawn to this simple approach to remind people about how to behave. It may be a little juvenile to some, but I think it has an appropriate dose of pant-kicking persuasion.