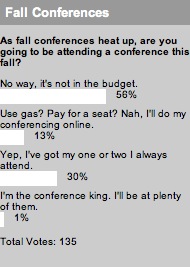 If you browse through our Events Lab, you'll see there's no shortage of conferences over the next few months. There are some really great ones out there run by people who are incredibly passionate about communicating the gospel clearly. So naturally, we wanted to know how many you'd be attending.
56% of you don't have a conference in the budget this year. Luckily, if you're in the D.C. area, you can be a part of the Idea Camp for free, as Michael Buckingham recently shared. If you're nowhere near, then you can still catch some great notes and videos online.
13% of you are planning to do just that. You're not subsidizing anyone's buildings and paperwork; you're going straight to the Internet for your fall conference needs.
30% of you have your go-to conferences that you're at every year, and this year will be no different. Let's hear what they are and what keeps you coming back to them in the comments.
And a final 1% of you are church conference junkies. You'll be live-blogging, conference-hopping, freebie-loading and doing lots of other hyphenated conference-speak. But it's certainly over two conferences for you.
This week, we're interested in knowing: If you were checking out a new church, what type of facility would you be most inclined to visit?