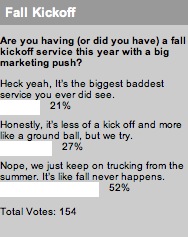 Last week, we asked whether or not your church was going to make waves with a fall kickoff service. Youth groups are starting back up, people are coming back from vacation and a new season is rolling around. It's a great time of year to build up some momentum.
21% of you are getting pumped up because it's about that time. You're going to have a huge kickoff; let us know in the comments what you'll be doing or what the statistics were like for a fall kickoff.
Another 27% of you are a little worried. You don't want to get too excited because honestly, you don't think your kickoff will be that exciting. Why not post your service ideas in the discussion board of the Church Marketing Lab, and get some feedback there? There's always the spring kickoff, right?
The true majority of you, 52%, aren't kicking anything off for the fall. The first Sunday of the fall is just another day of the week for you. Not everyone has to do a fall kickoff, don't sweat it. But consider all the good that could come of it.
I guess I'll head off and plan a CMS fall kickoff. Until we can get something to kick off, answer our poll for this week. Let us know if your church ever plays hooky. It's just over to the right.