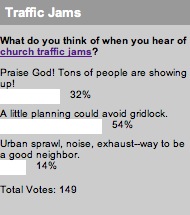 Recently, we discussed Mark Batterson's joy at finding a church traffic jam in Texas. For some, including Mark, this was an immediate cause for rejoicing. For others, it was cause for frustration that a church would be so inconsiderate of their neighbors.
The biggest chunk of you are hesitant to rejoice in this madness. You think it's more a product of poor planning than simply excited crowds. In case you're wondering, that's over half of you–54%.
Next up are the 32% of you who are rejoicing that this many people are showing up to church, regardless of any traffic mayhem that comes along.
Finally, 14% of our respondents are irked that churches are causing such a commotion. Instead, churches should be focused on being less invasive and being better neighbors.
This week, we turn our eyes to the fall conference season. Check our right sidebar to vote: As fall conferences heat up, are you going to be attending a conference this fall?