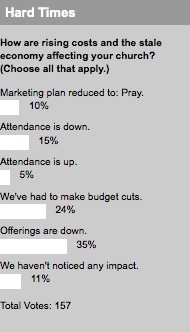 If you listen to the news and talk around the water cooler, you might just think the sky is falling. The current economic happenings certainly have an impact on your church, but what is it?
Offerings are down for 35% of you. Your budget red is getting brighter and brighter as stocks go down and down. And another 24% of you have had to make budget cuts already. I'm sure marketing budgets are going down, and we're always looking to hear how you're making less money do more work, so drop us a line.
15% of you have seen attendance going down. Gas money, fear of pressure to give and general unhappiness are probably just a few of the culprits in sinking attendance.
A lucky 11% of you haven't seen a single impact of the tough economy. And an unlucky 10% have noticed a big impact–your marketing plan has been reduced to prayer. Prayer isn't bad, but a few dollars certainly give your marketing a kick start.
Then there's the 5% of you whose attendance is on the up-and-up. Do you attribute this to the financial downturn? Be honest, are you paying people to come to church?
This week, click through to the main site to let us know, does branding your church with a specific scent take branding a step too far?