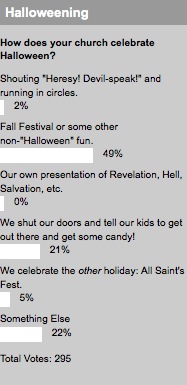 It's only a few days until that strange time of year where churches get all riled up on opposing sides of the debate and argue until they're blue in the face. No, not the election. Halloween. So we naturally took to the streets of the Internet to figure out how your church celebrates H-day.
To begin, there was a notable omission in the possible answers. "Nothing." Without even pausing to realize my own church does nothing, I forgot to include that as an answer, so that's probably a big chunk of you 22% something else-rs.
Almost half of you have some sort of creative way to celebrate that which much not be named without actually naming it. Maybe a "Fall Festival," "Trunk or Treat," "Harvest Hoedown" or a "Pumpkin Party." But surely you use alliteration to promote this event and keep elementary children off the streets.
Another 21% of you actually promote trick-or-treating out in the neighborhood. In an increasingly litigious society, you're running the risk of being sued you when a kid gets a stomachache from eating too many Sour Patch Kids.
Among the rest of you, 5% choose to celebrate All Saint's Fest instead, 2% wig out and try to exorcise the trick-or-treaters and a whopping 0% give some sort of presentation to scare the kiddies away from Hell or give them hope on a holiday from the dark side.
I can't believe there are no offerings of "Tribulation Trail" or "Judgement House [sic]." (Editor's note: I actually saw an incredibly well-designed ad and logo for a church's event called "Judgement House." Apparently after good design, spell checking was out of the budget.)
This week, we are looking to find out, how is your church approaching the upcoming presidential election? Forget Fox News and CNN for election results, check back here next week for the poll results on that pressing question.