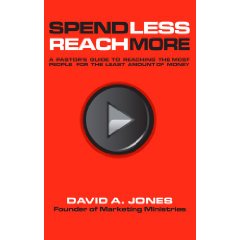 In Spend Less, Reach More: A Pastor's Guide to Reaching the Most People for the Least Amount of Money, David Jones takes a rare look at marketing and its costs. Plenty of books out there deal with marketing on a philosophical level or even offer somewhat practical solutions. Those are nothing compared to the details you'll get in Spend Less, Reach More.
After a run-down of marketing strategy and philosophy, David gets right to the meat. "If I have [X] people and [Y] dollars, where should I put my marketing money?"
He hits all the aspects of a marketing budget–search engine optimization, bulletins, radio commercials, television commercials and more. In 80 pages, Spend Less, Reach More minimizes fluff and gives you a primer of all you needed to know about marketing and how to set your own budget. It's a great read for anyone involved in setting your church's agenda for marketing.

I didn't necessarily agree with all of David's marketing philosophy or prioritization of various media, but as a long-time church marketer, he's certainly an expert in the field. The book is affordable and insightful. At the very least, it should get you thinking more about how you're allocating your marketing budget, and at most, it could be the marketing plan you need to lead more people in your community to Christ.
More from David: