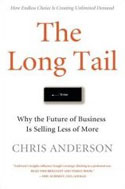 Wired editor Chris Anderson champions the concept of the long tail in The Long Tail: Why the Future of Business is Selling Less of More–basically the digital age has ushered in a new economy of incredible choice. Shelf space is no longer limited to the top 1,000 titles, but the top million can easily be sold at a profit. And while individual items at the end of the tail may not make much, the entire tail itself can rival the ultra-popular items at the head of the curve.
This blog is a good example of the long tail. Church marketing is a small market that barely supports its own magazines and books. But the low costs of a blog make it possible to reach that market, discover its potential and ease distribution, making it easier for magazines, books and whatever else to make it. (I'm speaking, of course, of our blog and the many others out there that cover church marketing–I'm not trying to say we defined the marketplace or anything like that)
So what does this have to do with church marketing? Good question.

The Long Tail and Church Choice
The concept of the long tail can be applied to many things, including churches. One example would be the proliferation of different kinds of churches. You can argue over whether or not a cowboy church is a good thing or a bad thing, but today's economics have made it easier to plant a church today than it was 50 years ago, resulting in a diversity of choice and the potential to reach more people.
The Long Tail and Church Offerings
But I think the better application for the church is simply realizing the change in the marketplace. People are beginning to expect more. Virtually limitless choice is available in music (iTunes), books (Amazon) and movies (Netflix). Is your church adopting to meet this new demand?
And I don't mean that every church needs to be offering unlimited products or choices or whatever. I'm saying that churches need to be aware of the shifting patterns in choice. Once upon a time the "hits" were all that mattered. Has your church changed to meet this new reality?
Let's Get Practical
I'm probably losing you. So let's focus on what this looks like in the real world:
Cassette tapes or CDs cost money and take up space–you can only offer so many archived sermons. But in the digital age you can offer a virtually endless archive of sermons with no limit on how many times they can be listened to. Suddenly your church has a valuable archive of content you can offer not only to your congregation, but to the entire world.
It used to be that only big name pastors published books. Or perhaps no name pastors who sold questionable books from the trunk of their car. But now anyone can publish a book. While this may increase the number of car trunk books, it also increases opportunities for your church. You could publish a book of your church's best 50 sermons. Or a church history book complete with testimonies from current members. Or your church's membership class in book format. Or a guide to baptism at your church.
You could record your worship band and sell the tracks or give them away.
You could put together a video podcast of your church service.
You could offer a long tail of events: scrapbooking, video game nights, early morning coffee and prayer. These are events that may not have the draw or be worth the time for staff members to coordinate. But by using low cost means (volunteers, the Internet, etc.) you can spread the word and distribute the work and suddenly those events are not only possible, they're powerful.
All of these are examples of things that would have been prohibitively expensive, but are now possible. The costs are small enough to be justified and the distribution system is efficient enough to get your materials out to your congregation and beyond (that "beyond" part is key, because it means your church can have an impact outside of your attendance). In some ways it's just basic Internet economy applied to the church. These are all ways your church could participate in the long tail.
Tapping the Long Tail
Another option would be to tap into the long tail. Your church has a long tail of membership–how can you utilize those people? You've probably already tapped the "hits," the people who are immensely talented or giving of their time. But what about the people who can make smaller contributions of time or talent? 40 people who can each volunteer an hour can accomplish more than 1 person who can volunteer 20 hours. The trick is to find the system to efficiently put them to work.
You may already be using your church's most talented people to write newsletters or ad copy that flows beautifully. But what about your long tail of talented writers? You may have a handful of other folks who aren't brilliant copy writers but can still write a mean blog entry. Put them to work!
In Conclusion
The book itself has no direct application to the church, so you'll have to connect those dots yourself, but it does thoroughly explain how this works in various industries and the kind of changes it may mean.