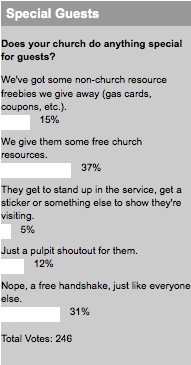 Just how special does your church treat visitors?
Well, for nearly a third of you, the answer is not special at all. They get a pat on the back, a bulletin and maybe a handshake from the pastor. Then again, so does everyone else at your church. Another 12% of you go just over this low bar for a pulpit shoutout. Low-effort, low-cost for you.
The next 5% of you are where visitors really, really start to get special. Maybe it's a sticker, a pin, standing up in the service or wearing a dunce cap, but you make your visitors do a "subtle" action that screams, "I'm a visitor."
The final group of you (over half) bribe give your visitors something. Whether it's church resources, a gas card, burritos or whatever, it's slightly more than the obligatory pastoral welcome or funny-smelling bulletin lady hug.
This week, we want to know how you came up with your church's tagline?