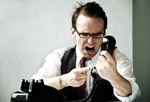 Last week I wrote a note to designers and creatives about how they should stop providing multiple design comps. Today I direct the same message to the other side–the people that are paying for them.
To Bosses, Clients, Marketing Managers, et al: Try with all of your might to hire freelancers and firms that do not provide comps. Working with someone that provides multiple design comps is like buying from a knife salesmen. If the Ginsu 2000 is the knife that beats all other knives, why do I need to buy all your other knives too?
When you support the bad habit that creatives have about providing multiple comps, you're training them to doubt their expertise. You're also presuming on them that you actually know better than they do about what works.
Stop already.
If you're going to play creative director then design it yourself. If you don't like the colors or the font or the motion graphics or the bumper music, perhaps you need to do a better job communicating your expectations up front.

And please don't ever say to your freelancer or firm "I'll know it when I see it." That's a major red flag and anyone who continues to work with you after hearing that must be desperate.
Creative people can be a little sensitive and insecure at times, and they think by providing multiple comps it gives them something to fall back on if you don't like an idea. They also think it earns more points with you because it looks like they're working harder.
Stop already.
Work really hard up front to make sure your freelancer or firm gets what you're trying to accomplish. Give them the problem you're trying to solve and let them come up with the solutions. The more they know at the beginning, the better they'll be able to hit it out of the park for you when you see their winning idea.
If you truly hate the idea you are presented, it probably means there was a breakdown in communication from the beginning.
I've been working with this no comp approach for a couple years now at Foursquare and so far so good. The people that have the hardest time with it are the people who are stuck in the routine of "that's the way it's supposed to be."
So stick to what you know and let your freelancer or firm stick to what they know. Together you guys should be able to do some great things. Bonus: this is also a great way to save a little money too because less time is spent trying to fulfill your fancies.