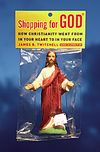 This is part three in a series from the book by James B. Twitchell titled Shopping for God: How Christianity Went From In Your Heart To In Your Face.
Twitchell suggests that modern church marketing really began to take off when Mel Stewart, an Assemblies of God minister, created the J. M. Stewart Corporation, the nation's largest manufacture of church signage. More than just a roadside nameplate, these signs, with their changeable letters, "would spell out something to give the tastes, the personality, the pizzazz of the place. In so doing, [Mel Stewart] would change forever what is called in church parlance 'the last hundred feet.'"
Church signage, suggests Twitchell, would open up the fascinating subject of "how churches position themselves, how do they separate themselves from one another, and how do they break through the clutter."
Supply and Demand
Twitchell goes on to argue that while "religious consumption" has remained pretty consistent from a historical perspective, it's the delivery of it that has been "incredibly innovative." "Often what excites the market is not increased demand but shifts in supply, innovations in packaging, new lingo, new sound system, new payment schedules, new pastorprenuers. New signage."

When moments of hype happen, we often refer to these as awakenings. "This is a misnomer because it sites the stimulus in the consumer, not the producer." In other words, the burst of excitement around church can usually be tied to innovation in delivery systems (church signs, church marketing campaigns, mega church complexes), not from an increase of demand by people.
Twitchell points back to times of revival and suggests that they were not created out of demand but "almost always caused by innovations in supply. Very often these early revivals were the result of a new kind of charismatic preacher getting into or out of the pulpit with a new version of the product."
Twitchell tells the stories of Charles Grandison Finney and P.T. Barnum and shows how they borrowed a page from the same playbook when it came to marketing. "See it now, it leaves tomorrow. [Barnum] mastered the concept of a once-in-a-lifetime opportunity. After all, Barnum said, he was only doing what he had learned from church." Finney would put a bench of "hebephrenic believers" up front so that everyone could see this group of people when Finney spoke. "As William Shakespeare knew, if you can put audience surrogates on the stage and have them join in, the rest of the audience will go along for the ride."
Even the concept of altar calls, suggests Twitchell, is an innovation that generated excitement. "For 1,700 years, the church had thrived without this call forward" until men like D.L. Moody, Billy Sunday, and Billy Graham used these methods to get thousands of people to respond.
Awakening?
"Just as the Holy Roman Empire was neither holy, Roman, nor an empire, so too the great awakenings were hardly great or awakening. Instead, awakenings are an increase in religiosity because of new innovations in storytelling."
Although church growth in America on the whole is stagnant, if not declining, church growth among mainline denominations continues to dwindle. So where are they going? Yep, the megachurches. And they are new innovations in delivery, defined by size not by doctrine.