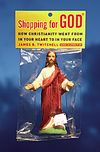 This is the fourth and final part in a series from the book by James B. Twitchell titled Shopping for God: How Christianity Went From In Your Heart To In Your Face.
In his chapter titled "Holy Franchise: Marketing Religion in a Scramble Economy," Twitchell reminds us that the mainstream denominations are in "deep trouble." He says the "majors forgot how to sell."
Just as we no longer keep the same job for a lifetime, or live in the same house as long as we used to, we also no longer are stuck in the same church we grew up in. Back in the day, "church denomination was a social marker."
"In the first part of the twentieth century, you could often 'buy' a family pew. It was yours. Your name sometimes was engraved on a little plaque. Plus, the further up front your pew, the more prestigious your social status."
In the end, says Twitchell, "consumers maintain the need for the product, but lose the bond to the brand." And when that bond to the brand is lost, the product usually ends up in generic packaging. And it's this "repackaging of spiritualism [that] is at the heart of many megachurches." "The megas are the triumph of the generic."

Concluding Thoughts
The last half of the book is spent nitpicking specific denominational campaigns and mainline approaches. The last two chapters are all about megachurches but sound more like recycled thoughts from Twitchell's previous books about capitalism and consumerism. Nothing super interesting, particularly for this audience.
From the selections I've excerpted my hope is that you get the gist of what James Twitchell is trying to say. If you're looking for an interesting perspective on the history of church marketing from an outsider's view, this is a decent read. The problem for me, as I said at the beginning, is that this book is not about how God has been involved in church history. This is a book about how man has been involved in church history, particularly in the marketing of it. And in Twitchell's view, man is all that really matters. You and I obviously beg to differ.