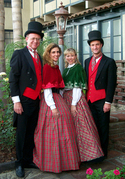 I love Christmas carols. Every year it seems like the words become more and more meaningful to me. It's amazing how much the gospel is sung in these songs!
So why have we stopped caroling in our neighborhoods? What other time of the year is it considered culturally OK to go to people's doors, stand outside and sing the gospel to them?
I'm all for singing carols inside the church walls but let's also remember to take advantage of opportunities we have to take the church to people. I can't think of a better idea this time of the year!
This photo is from Desert Carolers in Redlands, Calif. I have no idea who they are (thanks Google Image search) but maybe they could help you out.