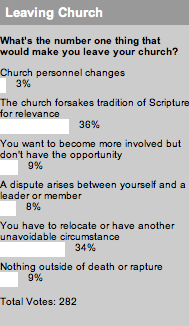 Last week, we asked you about leaving church. More specifically, we wanted to know what circumstances would cause you to leave a church. Nearly three hundred of you responded, and here's what you said.
A slim majority of you (38%) say that your church straying from its foundations in favor of relevance would cause you to leave. Good to see you sticking to your guns. Slightly less of you (36%) would only leave with some unavoidable circumstance–moving, your whole church population being raptured, etc.
There was a tie for the third reason to leave church. 9% of you would leave if there weren't enough opportunities to be involved, and another 9% wouldn't ever leave. Ever. Ever ever. Are you guys the pastors of your church? Or just super-loyal members?
Rounding out the bottom are the 8% of you who would leave for a dispute and the 3% who would leave at a personnel change.
It seems that we have a lot of either very devoted church members or extreme idealists. Either way, this week, whichever answer you gave, pretend some situation arose where you had to leave. And once leaving, how would you go about finding a new church?