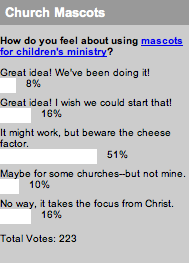 Last week, we asked what you thought of using mascots for children's ministry. Here's what you said:
8% of you are overachievers who have already been doing this. Has it been working out good for you? 16% of you think it's a great idea, and you wish it could start up at your church. Talk to your children's pastor. Talk to your pastor pastor. Talk to anyone, but remember, you're the agent of change.
51% of you are pretty leery of the cheese factor. It's understandable. We don't need to just create Mickey "Melchizidek" Mouse or a Jewish, bearded, carpenter bee. Let's be honest, an idea is only as good as its execution.
10% of you think it won't work for your church. That's perfect. Kudos to you for having the guts to say, "It sounds cool, but it won't work for us." There's something to be said for your idea-temperance. Finally, 16% of you think it takes the focus away from Christ. If you feel that your church couldn't execute it to keep the focus on Christ, then never put good marketing ideas before good theology.
If you're just jumping in on the discussion, head back to the original post to see some success stories in the comments about churches using mascots. And feel free to post more here.
This week we have a Church Marketing Sucks SAT practice question for you. Which one of the following words could also be called "church marketing?" Unlike the SAT, we're opinions only, and everyone gets an A. Enjoy.