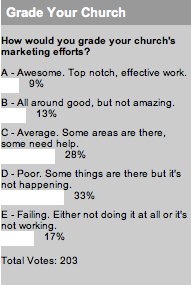 Last week, we asked you, scholarly CMS reader, to grade your churches on their marketing efforts. Upon receiving the grades and entering them into our computers, the averages were less than we had hoped for.
50% of you went with a grade of D or lower. That's troublesome. If your church were a marketing major, they would be that guy–you know, the one who is 35 and still trying to pass.
28% of the remainder went with a grade of C, described as "average." If we're grading on a curve, however, you're in good shape. Kudos to you, but keep it up.
A remaining 13% assigned a B and 9% an A. We'll go with three gold stars for each of you.
Big lesson at the end of the day: We live in a world that needs to hear our story, and we have to keep reinventing and improving how we tell it. If your church isn't passing, teach them how. If your church is passing, teach them how to get closer to that elusive perfect score.
Now, we turn to how your church ministers to various demographics. In the mean time, however, utilize our comment section and talk to one another about your grades. Don't be ashamed. Here's the question to get you started: What grade did you assign your church and why?