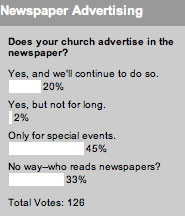 Last week we asked about newspaper advertising. It was a shorter poll, thanks to some holiday delays.
But the outlook for church advertising in newspapers isn't that promising. 45% only do it for special events and 33% balked at the idea. Only 20% do advertise in newspapers and plan to stick with it. Of course this probably says more about the newspaper industry than the church marketing industry.
This week we're asking about that controversial topic of churches partnering with other organizations. Carry on.