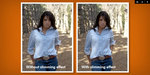 I think HP has gone off the deep end with their latest attempt to market the Photosmart line of digital cameras. They are promoting a "slimming" feature on the camera that can instantly take away the pounds! Forgive my frustration, but when companies engage customers in a context that is anything less than authentic, it goes against the loyalty potential for the brand. I don't doubt this campaign may sell a few more cameras and generate some buzz (things HP is certainly aiming for), but for a long-term brand (something else I would imagine HP desires), dumb campaigns hurt more than they help.

History is littered with companies that have slipped in brand value because they've been inauthentic, irrelevant, or irreverent in their positioning. Consider nearly every American car company (the cheaper the cars the cheaper the cars), KFC (kitchen fresh chicken anyone?), or even Kodak (how's that Advantix camera working out for you?).
How many churches are guilty of positioning themselves with the slimmer sinner feature? "Come this Sunday and your sin will melt away!" It may not be so obvious, but perhaps a second look at your campaigns may uncover some vulnerabilities.
Here's quick exercise: Develop a list of ten words you want people to use to describe your church (the brand). You may come up with words like genuine, vibrant, vulnerable, seeking, etc. Use these ten words as a filter for every campaign or campaign component you create. Does everything line up? (link via 37 Signals)