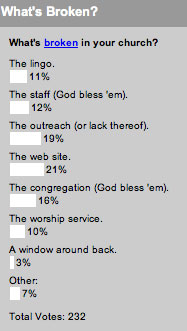 Last week we asked what's broken in your church. The responses varied, though the poor church web site got the most votes with 21%. The lack of outreach came in a close second with 19%. Then came the congregation (16%), the staff (12%), the lingo (11%) and the worship service (10%).
While the church web site is always the easy target, it does show once again that churches are continually behind the times. The lack of outreach being number comes as no surprise. Even though it's supposed to be our purpose, it also seems to be what churches always struggle with. And I do think it's encouraging that most people blamed the congregation before they blamed the staff. And apparently 7 churches need to pony up some cash and replace a few windows.
For the first time ever in a CMS poll we offered a write-in option last week. Some of the responses included Sunday School, fellowship, vision, priorities, the logo, the building–and my favorite–bread (get it?). That was kind of fun, so we'll see if we can do it again sometime.
This week we ask about the importance of the ubiquitous church bulletin.