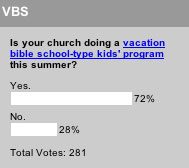 Last week we asked how many churches were doing some sort of Vacation Bible School program for kids this summer. The majority of churches are, with 72% saying yes.
It's kind of amazing so many churches do some sort of program, though I suppose it makes sense with kids being free from school and running amuck through the lazy hazy days of summer. Though I can't help but agree with the oddity of pairing vacation and school.
This week we ask about the most overused symbol in church logos.