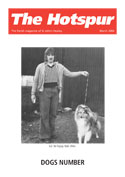 OK, that title was too easy.
That guy who draws cartoons on business cards, Hugh Macleod, has posted a PDF of a revamped church newsletter. It's called Hotspur and is the parish magazine of St. John's in the UK. Macleod calls the revamped newsletter the most remarkable thing he's seen recently and says he thinks the designer, Jamie Warde-Aldham of the Craven ad agency, "hit the ball out of the park with this one."
I don't get it.
It's a 24-page magazine dedicated to dogs in celebration of the Chinese new year. From a quick glance it looks like only two pages actually talk directly about the church. The rest is about, well, dogs. Don't get me wrong–I like dogs. It's just, well, dogs? It even warranted a mention in The Times.
I love the idea of a church doing a newsletter that's not all about the church. But I'm not sure if this is the approach I love. Maybe it fits better with British sensibilities. (link via Dave Walker)