This week we look at the online marketing of a Nashville church.
Samples:
Traditional Service Web Site:

Contemporary Service Web Site:

E-mail Newsletter: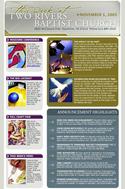 Notes:
Two Rivers Baptist Church
Nashville, Tenn.
Created by Loud Creative Group
Two Rivers has a 1,500-strong traditional service and a newer contemporary service that's gone from 90 to 600 in a few months. Their main web site is primarily for members and the contemporary site is geared towards seekers and promotes their contemporary service. They've also included a sample of their e-mail newsletter. They've recently made big strides with their online marketing and were actually submitted by an impressed church goer.
(Note: I included as much of the e-mail newsletter as I could, though I had to cut off the bottom, which included all the required unsubscribe information.)
Questions:
Which design sample do you like best? Why?
What's working graphically?
What do you think of the two different approaches?
Is it easy to find what you're looking for on both sites? Is everything well organized?
How does the text read?
What would you improve?