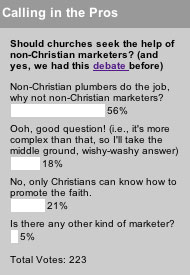 Last week we asked the touchy question of whether or not churches should hire non-Christian marketers. It's a debate we've had before, are having now and will probably have again.
More than half said yes, 21% said no, and 18% said it's more complicated than that. So the debate continues.
This week we're asking how to celebrate the impending birth of my baby girl. At this point she's already a few days late and I'd be happy just to have her out. Surprisingly, few are voting for "No blogging for a week," which is the most likely outcome.