Take a look at this flier design for a youth group program called My Praize promoting their theme, "messy lives." Please share your feedback and consider submitting your church's work for a peer review.
Samples:
11×17 Flier: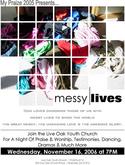 Notes:
Live Oak Church
Hinesville, Ga.
Created by Jesse Atwood
Live Oak Church averages about 900 on Sunday morning and pulls in a multicultural crowd. The church has a contemporary feel with traditional aspects.
The youth group, called My Praize, meets on Wednesday nights and about three-fourths of the students also attend the Sunday morning program. The theme of "messy lives" will be pushed throughout each night of youth group and will focus on 1 Corinthians 1:27-28: "Isn't it obvious that God deliberately chose men and women that the culture overlooks and exploits and abuses, chose these 'nobodies' to expose the hollow pretensions of the 'somebodies'?" (The Message). They will be studying the lives of people in the Bible that had messed up lives, but God still used them.
The design will be used as an 11×17 flier, but will also be adapted to a business card size handout for teens to pass out and a powerpoint slide for announcements during church. It's about to go to print in the next few days, so prompt feedback could help make some changes for the final product.
Questions:
What do you like about the design?
What do you think of the theme?
What would you change?
Do you think this will appeal to the target demographic of teens?