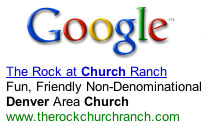 Search term advertising has been the latest rage. It's cheap, incredibly trackable, easy to do—and often effective. Is your church trying it?
The Rock at Church Ranch in Westminster, Colo. has tried keyword advertising and it's working for them. Ryan Dickinson, the church's Outreach Coordinator and a partner at the Denver area Harper Design, shared that in less than a month they increased visits to their web site from 5 per day to 45 per day. They've had little competition for the keywords, so they pay around 10 cents per click.
Last month they spent a whopping $32.42 on keyword marketing, drawing 291 click thrus. They've averaged 28 visitors per month, or about two new families every week. They haven't had a Sunday yet without at least one visitor who came to the church thanks to their web site. So far this summer their attendance has hit a high of 147, compared to 115 last summer.

You can get started with keyword advertising on Google AdWords or Yahoo Search Marketing. Dickinson has a few keys to success:
Make sure your web site is geared for visitors, including directions, basic info and frequent updates. The goal isn't just to get web surfers to visit your site—it's to get them to visit your church. That requires an effective web site.
Take the time to research and understand what people are searching for. Both Yahoo and Google make this easy.
Write effective ads. Both Yahoo and Google will bold the search terms in your ad, so be sure to include those words in your copy (in the above screen shot of their ad, I had searched for "Denver Church"—notice that both words are in bold text in the ad copy).
You don't have to bid for the top spot on every keyword. The Rock at Church Ranch averages 3.2 in the ranking of ads. It's not the top spot, but it still works.
A bonus of keyword marketing that Dickinson didn't mention is the ability to put a cap on your spending. You can bid on keywords up to whatever dollar amount you specify, which makes it easy to stay on budget.
Thanks to Ryan Dickinson and The Rock at Church Ranch for sharing their numbers with us.