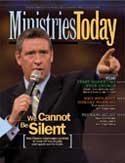 We recently wrote an article for Ministries Today on church marketing that appeared in the May/June issue. Turn to page 32 for the article, "Marketing Your Church Without Diluting Your Message" (unfortunately the whole article is not online, so you'll have to find a print copy).
The piece covers the basics of church marketing and includes a few helpful sidebars: "8 Ideas Worth Borrowing," "7 Ways to Market Without Money" and a list of church marketing companies. Of course if you read the blog you've seen much of this before.
Welcome to anyone who followed the ChurchMarketingStinks.com link that appeared in the magazine (check out 'Sucks? Stinks? What?' for an explanation).