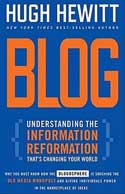 Conservative author, radio show host and one of the top 20 bloggers, Hugh Hewitt, talks about the information shaping power of the blogosphere in his new book, Blog. It tries to give the definitive overview of blogs, charting their history, influence, and revolutionary nature. It's insightful and interesting enough for the veteran blogger, but also approachable enough for a newbie.
So what does it have to do with church marketing? If you're not up on blogging, you should be. Hewitt spends a chapter comparing the Protestant Reformation and the invention of movable type to the advent of blogs. These things are big.
It's a quick, 155-page must read for pastors (don't bother with the 70 pages of appendices).

Blogs and Churches
Hewitt recommends reading blogs as part of a defense to stay up on what's current and avoid the kind of mistakes that brought the downfall of Trent Lott, The New York Times and Dan Rather (events continually rehashed in the book as examples of political bloggers flexing their muscle). His recommended blog reading for pastors includes Mark D. Roberts, Al Mohler, John Mark Reynolds, and Evangelical Outpost, just to get started.
He also gives the example of Roberts who started blogging in addition to all his other duties because of its importance. Change is coming to the church, and Roberts established himself as a voice of theology backed with scholarship and experience. (Roberts even offers a list of blogging pastors)
Blogs can connect congregations far beyond a Sunday morning handshake. Will churches take advantage of this technological reformation, or will they ignore it and continue to be left behind?
Blogs Love Technophobes
And being a technophobe shouldn't stop you. Hewitt is a casebook technophobe, admitting, "I learned how to spell-check in September of 2004. I had been blogging for more than two years by that point. I still can't use a digital camera, but my blog had 160,000 visitors in the twenty-four hour period surrounding the October 8, 2004 presidential debate." (page 150)
He goes on to say, "Design-savvy bloggers mock my layout, and rightly so. … I am still unsure what an RSS feed is and have trouble making the permalinks work—but it does not matter! That's the point. It is all about the content." (page 151)
While his design is terrible, and it's shocking that a blogger doesn't understand such widespread technical terms as RSS or permalinks or taken the time to learn—he's right. You don't need a tech-savvy teen to set up a blog for you. Anyone can do it, even the pastor who has trouble turning on the computer. Well, maybe not that pastor, but if you can check your e-mail, you can blog.
We Don't Need Your Politics
The one weakness to Hewitt's book is what he constantly bashes the mainstream media for: bias. He sees the rise of blogging as a direct response to the left leaning mainstream media, which is true for the most popular and visible type of blog, political blogs (of which Hewitt is an example). With such a premise, Hewitt takes the many swipes at the other side typical of a political blogger, with a few balanced comments to keep from going over the edge.
But quite simply, blogging is about more than that. Hewitt alludes to the "long tail" discussion prompted by Wired's Chris Anderson, which says that the millions of blogs out there with a few dozen readers have a greater impact than the few dozen blogs with thousands of readers. The more substantial impact of blogs goes well beyond the divisive realm of politics. There's just no need for the constant jabs in what should be an apolitical book.