Martin Luther King Jr. Day is an opportunity for your church to celebrate a social and historic hero who also happened to be a pastor.
We've got some tips for how to celebrate MLK Day, as well as some sample social media posts you can use. But first, let's talk about why your church should care.
Why Celebrate MLK Day?
How many holidays are dedicated to a pastor? We've got a couple for saints (Valentine and Patrick), but whatever Christian origin those holidays had, they're now drowned in sugary love and beer.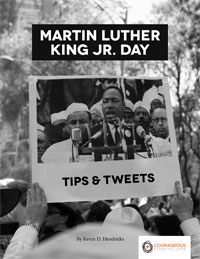 Martin Luther King Jr. Day is a national holiday celebrating a pastor. He's our people. We should claim and celebrate this holiday before it gets watered down by commercial interests.
We should also care because his cause is our cause. Justice and equality are pillars of Christian morality.
Unfortunately, the church hasn't always been on the right side of history. While we may be able to claim the greatest civil rights hero of the 20th century, we're also complicit in the injustice King stood against. For all the marches and lunch counter sit-ins, we forget that there were also "kneel- ins" targeting segregated churches.
Yeah, churches barred the doors and wouldn't let people in. We must own our broken past and work for a better future.
Because we're not done yet. Racial divisions continue to be a problem. Churches are often the most segregated places in society.
We're still short of King's dream. We've got some work to do.
But MLK Day is a ready-made opportunity to bring the gospel to this often divisive issue.
We hope you'll take advantage of that opportunity. We've got some tips and tweets to help:
Download the Martin Luther King Jr. Day Tips & Tweets now.
More:
Want more helpful resources like this? Check out our Courageous Storytellers membership site.