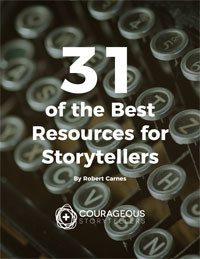 Storytelling is the buzzword these days, but how do you actually do it? Our Courageous Storytellers membership site offered a collection of storyteller resources to answer that question, and we want to share one of those with you.
Our own Robert Carnes, author of The Original Storyteller, put together a list of 31 Storyteller Resources that can inspire and equip you to tell better stories.
We're talking:
Books
Podcasts
Blogs
TED Talks
Conferences
Courses
Whether you're looking for a free resource or you're ready to invest in some training, we've got the storytelling resources for you.
Download 31 Storyteller Resources now.
More: