We're talking about giving this month on our Courageous Storytellers Membership Site. Join now for access to templates, samples, and other resources to help improve how your church talks about money. 
We may all dread the inevitable Sunday when the pastor gets up to talk about giving. Either dread, or we tune out the message. We've heard it before. Why pay attention when afternoon chores and lunch plans beg for attention?
The thing is, healthy churches require dedicated givers. And, while a once- or twice-a-year "cheerful giver" sermon (see 2 Corinthians 9:7) certainly motivates people or reminds them about why we give, we can do more to facilitate one-time and recurring financial gifts. Today's giving technologies give us new ways to connect and inspire people to contribute to their local church.
3 Online Giving Trends
Tithe.ly recently conducted a study of its users to demonstrate how powerful its giving platform is. Before jumping into those stats, it helps to consider some other data. Tithe.ly's report, for instance, lacks demographics information. Fortunately, the nonprofit realm offers assistance in this area; it, too, wants to know how giving platforms, online and mobile, affect donors.
If you think online giving holds sway with the younger generation, think again. Dunham+Company's survey finds that "donors 40-59 years old are now the most likely to give online," increasing from 47 percent in 2010 to 67 percent in 2015.
The 2016 Global NGO Online Technology Report complements Dunham+Company's analysis. The report says millennials are "most inspired" by social media to give. Gen X and baby-boomers slightly prefer email to social media. The report suggests the next generation, Gen Z, will demand mobile apps.
Faith-based giving is on the rise. Blackbaud's fifth annual Charitable Giving Report shares that faith-based giving has grown by 0.7 percent overall, year over year (2015 to 2016). Online giving to faith-based organizations has grown by a whopping year-over-year 8.8 percent.
6 Church Giving Stats
The three trends and stats listed above can convince church leaders to invest in online giving. However, some extra backing, especially of the church-specific kind, never hurts. The more data points you know, the better able you are to make a solid case and get the support you need. The findings listed below come courtesy of Tithe.ly and its survey of nearly 2,000 churches.
1. People Like Giving Options
Mobile leads the pack, but the data could be skewed by the nature of Tithe.ly's product offering. In any case, the point remains germane: make giving easy to do, across all the possible platforms, and people will give online, in person, and on mobile.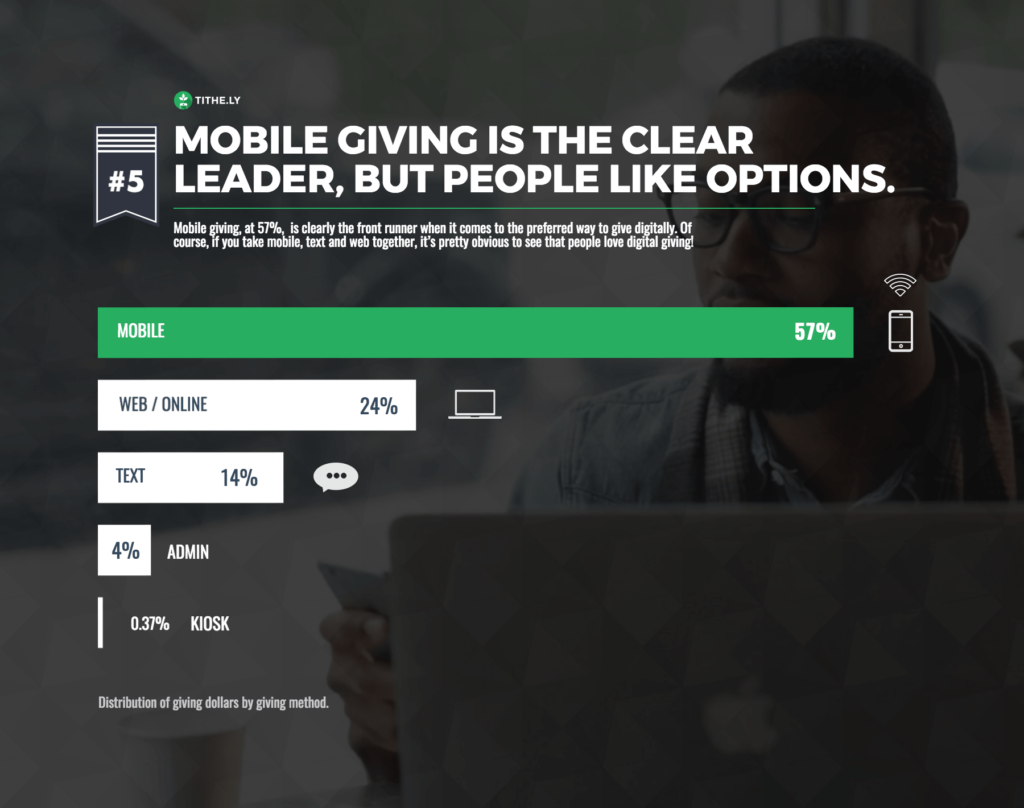 2. People Aren't Afraid to Give Big on Mobile
You might assume people fear making large financial gifts on mobile or online, but Tithe.ly disproves the assumption. According to its survey data, over 50 percent of the gifts processed by Tithe.ly in 2016 were $250 or greater.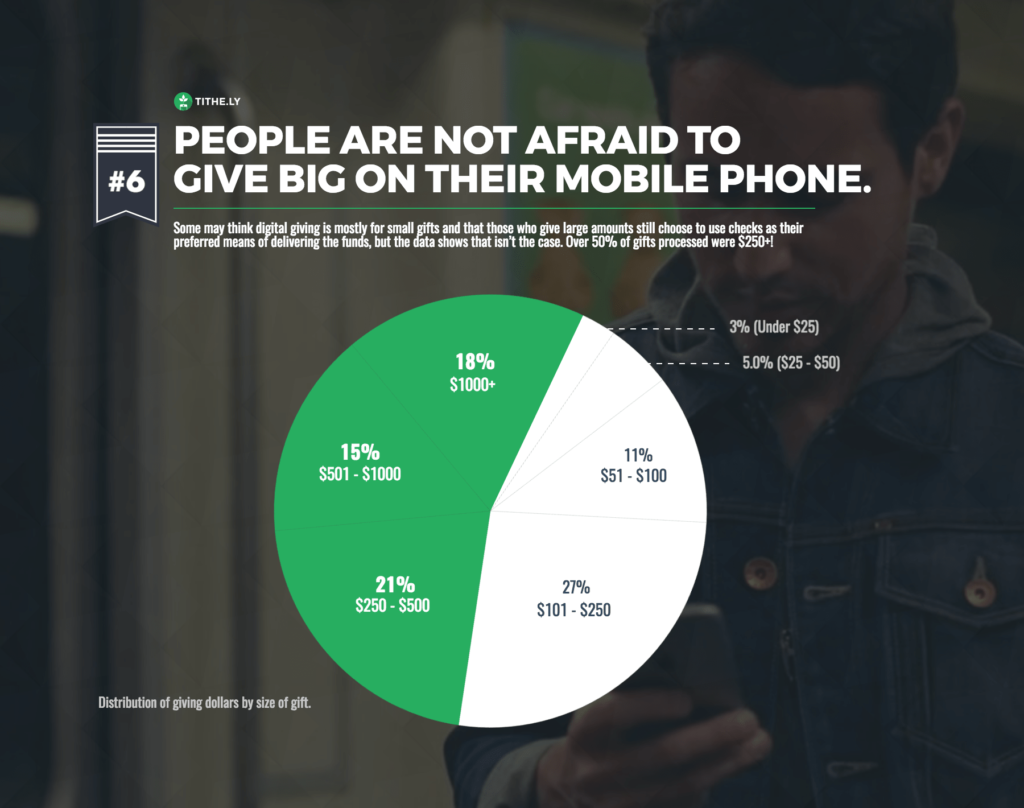 3. Promoting Recurring Gifts Is Smart
Tithe.ly explains, "Consistent givers — those that give at least once a month — make up only 15 percent of the total population [of surveyed respondents], but they account for 51 percent of dollars given!" Offering those givers auto-pay options is simply the strategic thing to do. It helps them and us budget.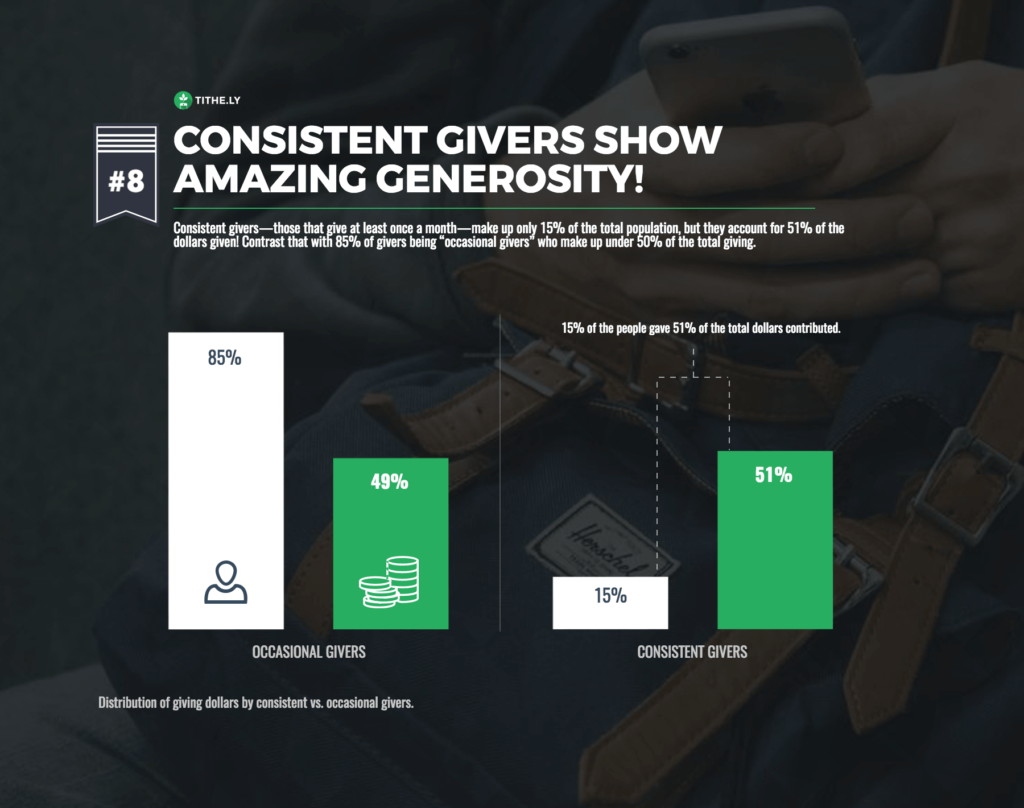 4. People Give on Days Other Than Sunday
If the offering plate, basket, or bucket comes up empty on Sundays, it could be that people are giving to the church on other days of the week. Why not support the trend? It extends the Sunday experience into the rest of the week.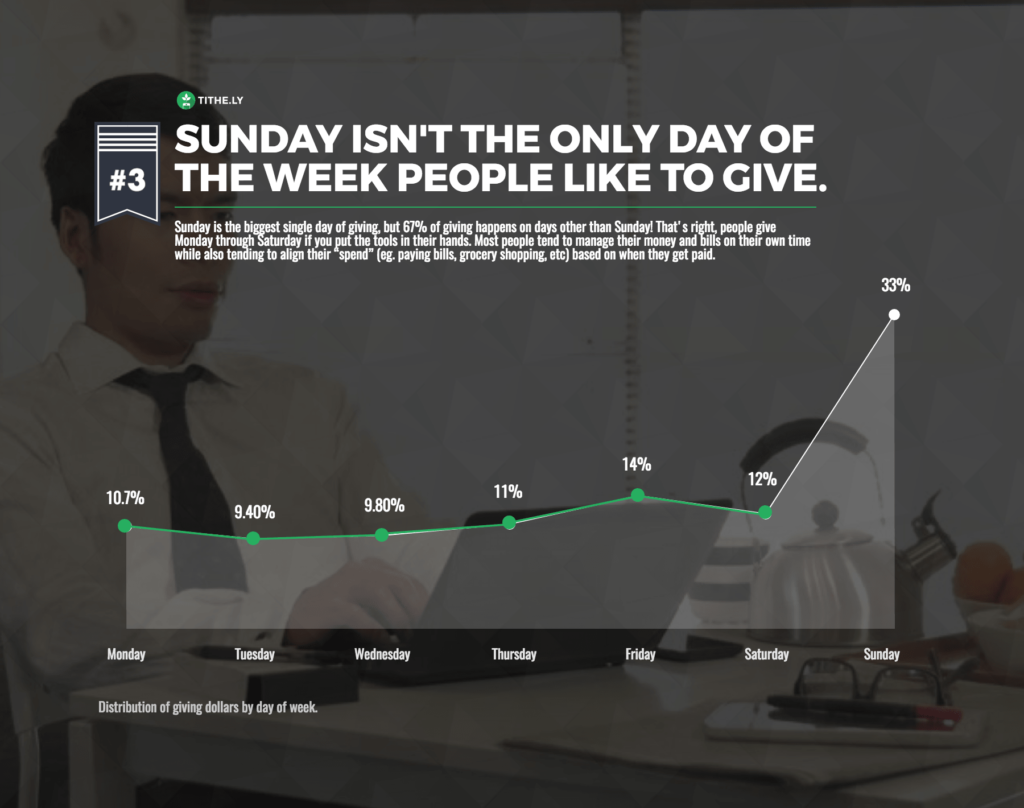 5. People Don't Wait Until Payday to Give
Tithe.ly's data shows that sizable gifts come in on days other than the first, 15th, and last day of the month. The phenomenon isn't explained, but people give big on the fifth, 12th, 19th, and 26th, too.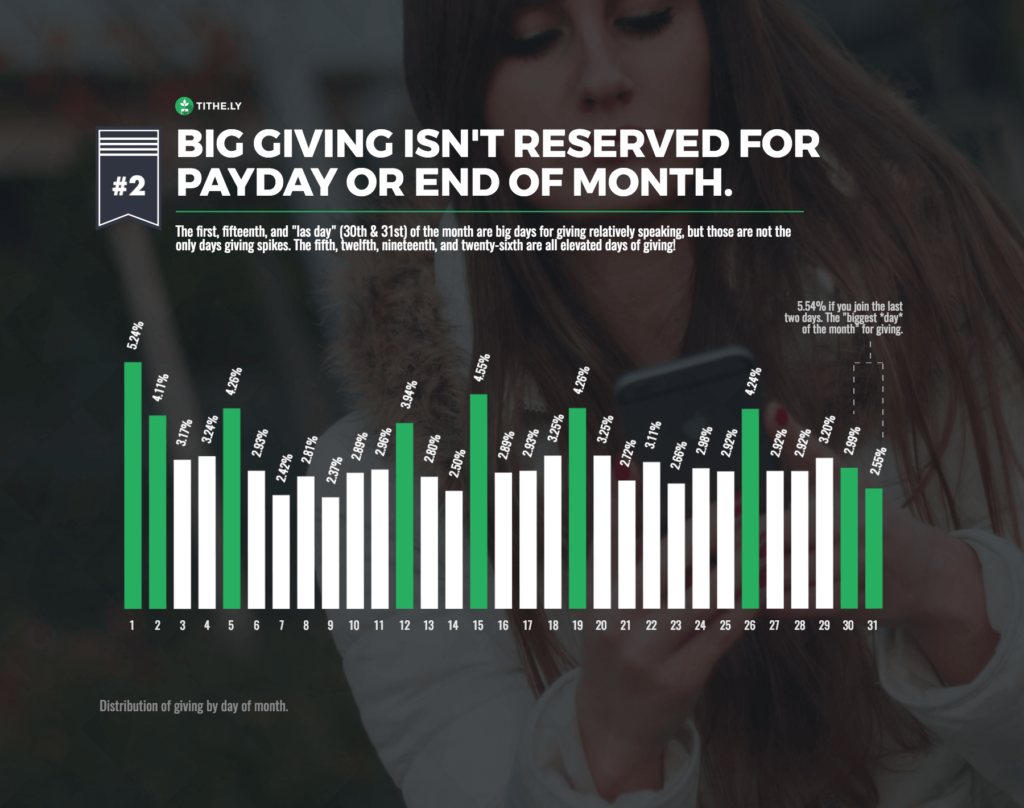 6. The Summer Slump Is a Myth
Most churches report seeing a drop in income over the summer months. It's a product of people not being in church to give, but that doesn't happen with online giving platforms such as Tithe.ly. Churches using Tithe.ly actually see giving increase throughout the summer.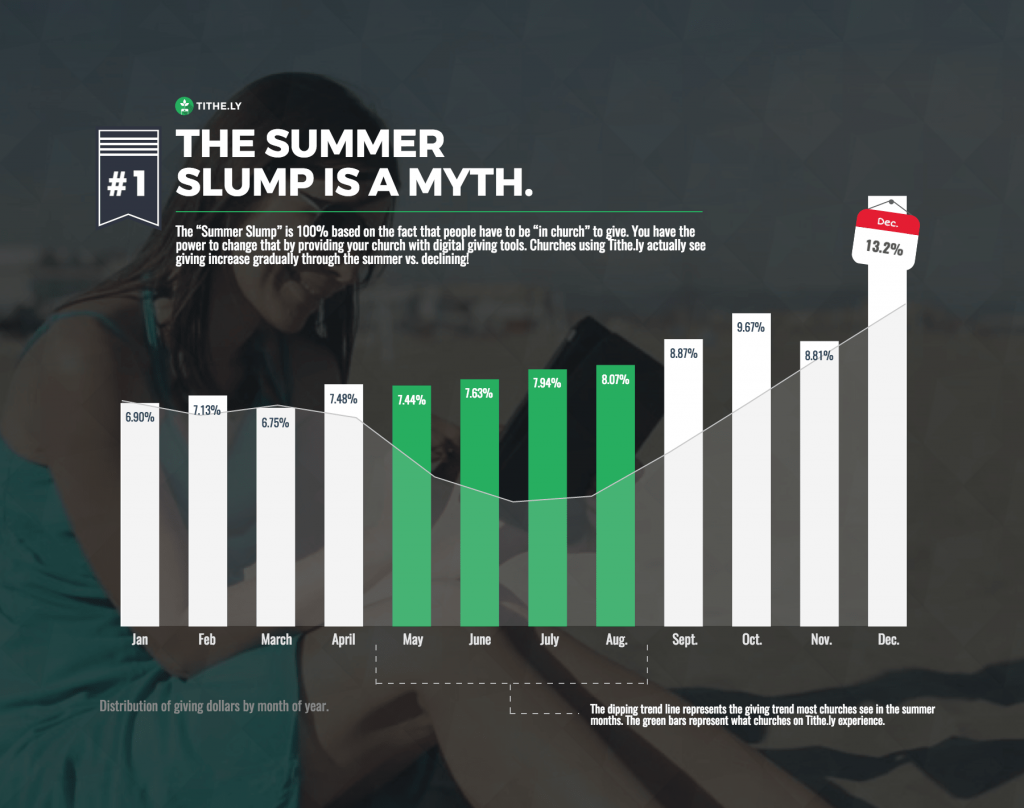 View Tithe.ly's full report for all 10 of their giving stats.
Does your church use online giving? What's your experience been?
More:
Visit Courageous Storytellers for more ways to improve your church's conversation on giving.