Our friends over at Ekklesia 360 are doing something interesting that I think church communicators can benefit from. It's called Church Website Revival, and it's a chance to have your website analyzed by one of their professionals. There is a limited number of analysis opportunities available so you should apply today, but even if your site isn't selected, you can learn a good bit by watching the video critique of other sites.
The Church Website Revival analyzes how effective a site communicates to different audiences through content verbiage, navigation structure, and clear calls to action. It looks at first impressions, critical content, next steps, and getting your people involved.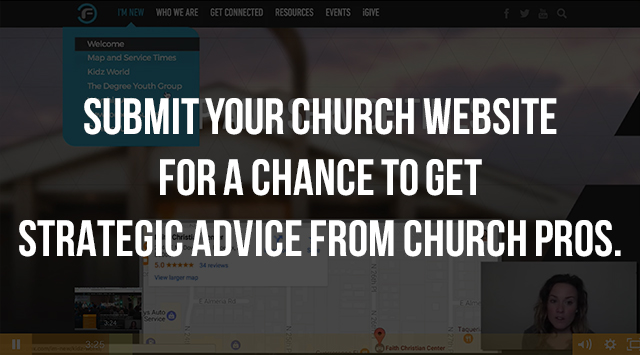 The Church Website Revival is hosted by Ashley Samuelson, website strategy expert from Ekklesia 360. She's consulted with hundreds of churches to help them communicate their mission online. Ashley guides churches through strategy projects in which churches understand how to connect different audiences to their story.
I strongly encourage you to jump over to the site and check out the May Website Revival (click here) and apply to have your site reviewed by the experts at Ekklesia 360.
Full disclosure: Ekklesia 360 sponsors a lot of our projects at the Center for Church Communication (our parent nonprofit) and gives us lots of money. They are a fantastic supporter of all we do here. However, they didn't pay for this post. I really think if you watch the Church Website Revival videos it can help you make your website better.
More:
Want in-person training for your website? Check out The Intensive (the Ekklesia 360 folks will be there!).
There are tons of website resources in the Courageous Storytellers Membership Site including a: Church Website Redesign Worksheet, Ultimate Church SEO Guide, Church Website User Experience (UX) Checklist, Web Strategy for Multi-Site Churches, and a Website Evite Tool.