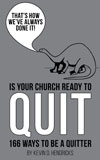 Every Thursday Bob Goff quits something. We wrote a book about it: Is Your Church Ready to Quit? 166 Ways to Be a Quitter. You can get a free preview, buy it now or enjoy this sample:
#27: Quit trying to be trendy.
Maybe you are and maybe you're not.
What's important is not that you can keep up with the latest craze but that you can help people take the next step in their faith journey in the most relevant way possible.
#28: Quit being so old fashioned.
Yes, we get it. You're not going to bow to the hipsters or try any innovations from the last 100 years. But sometimes change isn't bad. Once upon a time pews, organs and the King James Version were cutting edge.
You can get more straight-up honesty like that when you buy the whole book: Is Your Church Ready to Quit? 166 Ways to Be a Quitter.
Ancient Traditions vs. New & Shiny
This is a good example of the contradictions in Is Your Church Ready to Quit?. Let's be honest: not every church is in the same place. We all need to quit, but we need to quit different things.
Some churches are on the bleeding edge of trendy. They'll do anything to relate to people. Sometimes that's admirable—being willing to jettison what doesn't work and find something that does (we did write an entire book encouraging that). But sometimes we try too hard and become awkward hipsters, striving to be authentic that we lose any sense of who we are.
You see this in the criticism of church as a rock concert, a feel-good show with little substance or authenticity. It's a critique helped by the impersonal nature of a megachurch and the consistent failure of celebrity pastors to be perfect in all things. (Wait, they're human? Gasp.)
On the flip side we have churches that cling to the ancient. If it's old, it must be good. It gets awkward when some of those old concepts were trendy and heretical in their day. It gets scary when some of those old concepts were brutal and inhuman (e.g., slavery).
OK, that's the extreme case and few churches are defending slavery these days. Likewise the megachurch-as-lightweight critique is also extreme and unfair. But it's this kind of thinking that puts these approaches at odds and creates this codger vs. hipster argument.
It all seems kind of silly, doesn't it?
Let's recognize that there's no one-size-fits-all way of doing church. We all do things differently, and that's OK. Instead of arguing about which approach is better, let's focus on our kingdom work. Our guiding light shouldn't be whether it's trendy or old, it should be reaching people with the good news of Jesus.
More: