Every church approaches social media with different strategies and varying levels of success.
Most of our carefully crafted social posts typically draw about the same level of attention. But every once in a while, we hit one out of the park.
It's no secret that stunning graphics and compelling visual images drive engagement on social media.
What Is Your Most Popular Social Media Post?
We reached out to some church communicators and asked this simple question: What's your church's most popular social media post?
In response, we received a variety of examples from churches all over. Each of the posts below help to illustrate how to engage our audiences on social platforms.
1. & 2. The Fields Church
Here are two great examples of popular posts from The Fields Church in Mattoon, Ill.
The first is an invitation to this year's Easter service, which members were encouraged to share with others. The other highlights a mission team that delivered beds to low income families in the community.
3. Grace Church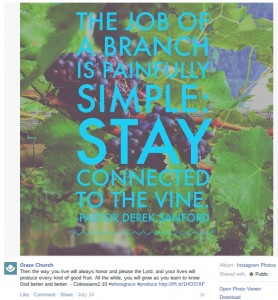 This is an awesome visual post from Grace Church in Erie, Penn. It's simply a quote from a recent sermon with a very eye-catching design.
The image was originally posted on the church's Instagram account, but this demonstrates that content can be repurposed across digital platforms with ease.
4. The Journey Church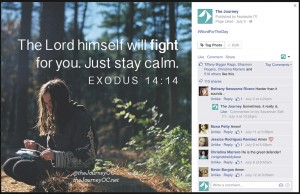 The Journey Church in Orange City, Fla., took a similar approach with Scripture text over a good photo. Notice how they also incorporated their church website and social media handle into the graphic as well.
They've also taken advantage of the hashtag #WordForTheDay to tap into an even larger audience outside of just their congregation. Take time to understand the language of social media.
5. & 6. Christ On Capitol Hill
Christ On Capitol Hill, located in St. Paul, Minn., witnesses a noticeable increase in social engagement after they post photo albums from church events.
The takeaway here is clear: people like to see photos of themselves and share said photos with their friends.
7. Catalyst Church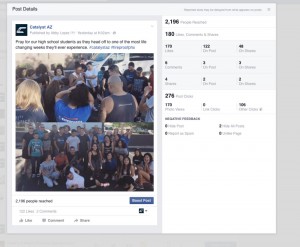 Catalyst Church in Phoenix gives another great example on the popularity of group photos. The church asked for prayers for their student ministry about to go on a mission trip.
This post serves multiple purposes—it announces the mission trip to the entire church, encourages prayer within the congregation and celebrates the students serving.
8. Southbridge Fellowship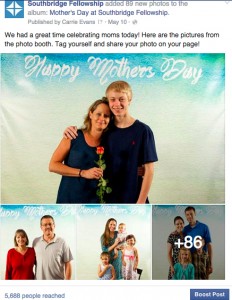 The communications team at Southbridge Fellowship in Raleigh, N.C., utilized the same idea with this Mother's Day photo album.
Setting up a photo booth at your church is an easy and fun way to generate some great digital content. It will also naturally drive people to your social platforms.
9. Piedmont Chapel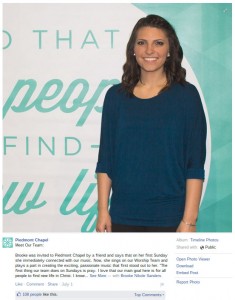 Not only do congregations like to see photos of themselves, they also like to see church staff members.
Piedmont Chapel out of Greensboro, N.C., regularly does a 'Meet the Team' post introducing church leadership. These posts almost always attract increased levels of engagement.
10. Prince of Peace Lutheran Church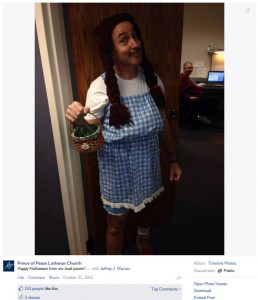 If images of staff members are good, humorous photos of staff members wearing costumes are even better.
Prince of Peace Lutheran Church in Burnsville, Minn., thought so when they shared a picture of their lead pastor dressing up for Halloween.
11. Second Baptist Conway
Similarly, the Second Baptist Church in Conway, Ark., used this post to recognize and thank its volunteers.
Posts like these provide volunteers with much-deserved love for their hard work and give everyone else a cool, behind-the-scenes look at how service is run.
12. & 13. Whitewater Crossing Christian Church
Our next two examples are evidence that links to external sites can also get traction on social media.
Whitewater Crossing Christian Church up in Cleves, Ohio, shared these two stories with great success. One article links to their website, the other to some local news coverage on their church expansion.
14. Saint Paul Area Synod

Bishop Kasper of the Saint Paul Area Synod needed to make a routine announcement about taking a health assessment.
She took a unique approach by posting a video to Facebook featuring a talking dog. Sure, it may be a little cheesy—but it's going to get a lot more attention than just a plain text post.
15. Hamline Church United Methodist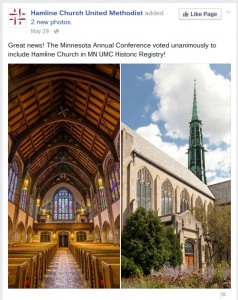 Being included in the Minnesota United Methodist Historic Registry was a big achievement for Hamline UMC, located in St. Paul, Minn.
They took to social media to share the news and included some beautiful photos of their church. Always utilize great photography when you can.
16. First West Church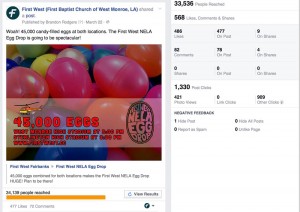 First West Church of West Monroe, La., provides an example of how boosting a post can increase both traffic and engagement.
Connecting to the right audience through paid social media ads can really pay off. Not only is the pure numeric reach on this post about an Easter egg drop impressive, so are the number of Likes, shares and clicks.
17. & 18. T.D. Jakes Ministries
Finally, we come to a contribution from T.D. Jakes Ministries, a megachurch based in Dallas.
While we can't all expect to garner eight million post views and more than 700,000 clicks on our posts, these two posts were especially popular for the church. This demonstrates the true potential of spreading the gospel on social media.
Anyone who doubts whether churches should be on social media need only look at these numbers to understand that the mission field for the 21st century is online.
What Can We Learn From This?
While there's plenty to ascertain from looking at this compilation of social media posts, all of these posts have two obvious thing is common: they're all visual and they're all on Facebook.
Visual Posts
It's no secret that stunning graphics and compelling visual images drive engagement on social media.
These examples should only further prove that point. Each and every one of them had a strong visual element.
So take some photos of your church members and events. Share some cool graphics of scripture readings and sermon quotes. Even when posting external links, make sure to include a visual component.
Facebook
It may be a pure coincidence, but it says something that every post shared by our communicators was on the same platform: Facebook.
While that may nor may not change in the immediate future, Facebook is still the dominant force in the social media world. Other platforms like Instagram and Pinterest may be growing, but for now Facebook remains the primary place churches have success on social media.
What Do You Think?
Do these examples fit with your idea of successful social engagement? What other observations do you have about these posts? Do you have any examples of popular posts that you can share with us?