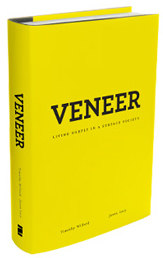 If you are not familiar with Timothy Willard and Jason Locy, you should be. Not only are they two of the most articulate, creative and thoughtful guys you'll ever meet, they are unpretentious, unassuming and quite brilliant. Their new book, Veneer: Living Deeply in a Surface Society, should be required reading for everyone who has wrestled with the tension of living the life you want and living the life you live.
Tim is a musician, teacher and writer. Jason is a creative director and founding principal of FiveStone. Both have worked with big names and big brands but you'd have to dig around a little to figure which ones. I love that.
Veneer is the thin covering on wood that makes it looks nice. It hides the imperfections and masks what's really below the surface. Veneer is also something people wrestle with because it's easy to hide behind the things that make us look better.
Tim and Jason's purpose for writing Veneer, quite ambitiously I must say, is to help people figure out who they are and how they are meant to live. I can't say they deliver on this desire, but they do come close. If I have any complaint about the book, it would be the surprising lack of personal stories and struggles. (Full disclosure: I have known and worked with both of these guys throughout the years.) Instead, the book is held together by colorful, sometimes imaginary moments (presumably experienced by the author/authors), which capture the imagination and invite me into the story. I was able to hear a live presentation of Veneer at the Q conference in Portland, and their personal stories came to life and caused the audience to really lean in and appreciate the authors' vulnerability. If only this could have come through in the book.
Veneer is divided into two major thought streams. The first is the language of culture—the world we live in—and the second is the language of God—the world we should live in more. Every chapter is deeply thoughtful (as it should be; they've been working on this book for years!). Their ability to listen and reflect upon the ancient voices of the past and bring them into the "modern family of God," amid our over-connected, always-on culture is as refreshing as it is reflective.
I really appreciated their thoughts regarding online social connections (I've blogged about this many times) as they suggest that "browsing people" is causing "social consumption." In addition, Tim and Jason's commentary on modern-day church is quite poignant, especially for readers of this blog:
If we back up and look at the Christian landscape with as much objectivity as possible, we can't help but notice how much society influences the church. From building architecture to worship style, the relevant church takes its cues from the Apples and Starbucks and U2s of the world. We've successfully bottled God with a neat worship funnel.

When you stand in the middle of two thousand people and the smoke is lifting with the lights and the guitar delay reverberates through the auditorium, you would be dead if you weren't taken up by the experience. Your heart pounds, vocals soar. You see the worship leader on the nine-hundred-square-foot high-definition screen—cut to close up of hands on guitar—and become entranced. All your senses fire emotions. It's overwhelming.

When we spend less than 2 percent of our week at church, it's odd to think our time together should mimic what we experience every one of the previous six days. It should be two hours of the total other.
End Veneer
Stripping away veneer is an "inside-out" idea. It is one part renewal (inside) and one part exchange (outward). Renewal is about the "transformation that takes place at the deepest recesses of the human heart with the aid of the Holy Spirit." Exchanges "allow our spirits to stretch" by replacing the language of culture with the language of God.
Tim and Jason suggest five renewals and five exchanges for ending the veneer in our lives:
Renewal: The inside work of the Holy Spirit
Pursue renewal in your relationship with God and in your personal relationships.
Pursue renewal of your life purpose.
Pursue renewal in your reverence for God by countering idol worship.
Pursue renewal in what and in whom you find reliance.
Pursue renewal as a member of God's family, the church.

Exchanges: Replace language of culture with language of God
Exchange dissatisfaction for gratitude.
Exchange getting for giving.
Exchange hype for reality.
Exchange transaction for relation.
Exchange the common for the extraordinary.
It's a terrible irony that Veneer will most likely get pushed aside amidst the more captivating headlines and hubbub of whatever orbit you're floating in. Yes, you should immerse yourself in this book. Not because it will mesmerize or motivate, but because it will draw you back to what really matters. After all, we don't need more instruction; we need more obedience. It's a reminder we as communicators need more than anyone else.
More: Read our interview with authors Timothy Willard and Jason Locy.