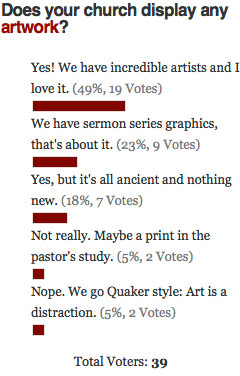 We recently explored church artwork with a number of your examples. It's inspiring to see artistic creation in the church. We threw out a poll to see how widespread church artwork is. And the results are inspiring as well.
Nearly half—49%—said their church has incredible artists and they love it. We couldn't ask for more.
Next comes the 23% that have sermon series graphics and that's about it. It's great that artistic expression is being paired with the preaching of God's Word. But it doesn't have to be confined to a weekly graphic. We hope these churches can let their art spread.
Then there's the 18% that have artwork displayed in their church but it's ancient and they don't have anything new. Historic artwork is still something and it's worth celebrating the artistic efforts of our fore-bearers. But creatives should constantly be creating. Unleash the artists of this generation. Sing a new song.
Finally we come to the bottom of the artistic barrel, a combined 10% that either don't have any art (save for a print in the pastor's study) or go anti-art, Quaker style.