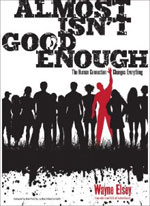 Wayne Elsey is the founder and CEO of Soles4Souls, a relatively new nonprofit that's seen incredible growth and impact. They're already a $75 million organization. All from giving away shoes. A lot of shoes: 12 million since 2005. And they hope to give away 11 million shoes in 2011. It takes a certain kind of crazy to do that, and that's what you'll find in Wayne Elsey.
His new book, Almost Isn't Good Enough: The Human Connection Changes Everything, is a sort of manifesto for change. It's full of his simple wisdom about how to run an organization, how to create change, how to get things done. And that's what Elsey is all about—accomplishing the task at hand. He's not interested in building a nonprofit that will last for decades. He's interested in solving a problem.
Almost Isn't Good Enough is part inspiration and part practical thump upside the head. Elsey offers business wisdom, real world know-how and pragmatic idealism (Contradiction? Apparently not.). It's just what the overworked and overwhelmed pastor needs. Elsey's ideas are intended for nonprofits, but they can easily be applied to the church.
His "all-in" approach demands that we take risks for our cause, not just sit back in our pews. It's a powerful message that church communicators need to hear.
Here are a few snippets:
"The story you tell matters. If you want more people involved in the work, start telling better stories."
"Failure is not a bad thing. It's an opportunity to learn something."
"Changing the world means placing more emphasis on getting it done than on getting it right."
"Awareness creates more spectators, and spectators rarely get in the game or even stay plugged in for very long. Engagement represents a sense of ownership and commitment on behalf of an individual that becomes the fabric of a lasting relationship and long-term results."
Elsey is also putting his money where his mouth is, giving away 10 pairs of shoes for every copy of the book sold. Get more from Elsey on his blog, buy a copy of the book or tune in tomorrow for our interview.