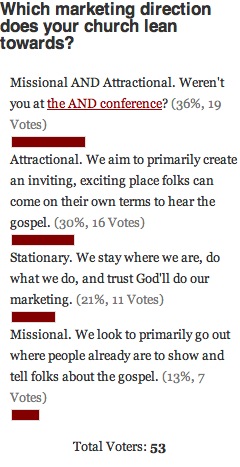 There's been a big debate for awhile about missional and attractional churches, and recently the AND Conference posited that these two don't have to be separate choices, but can coexist. I've been a part of both type of churches in the past, but never an "And" church. It looks like you're not in the same boat as me.
36% of you are part of a church that aims to be both missional and attractional. Most likely, your aim is to bring people in to your weekly service and then get out there and get to them the rest of the week. The both-and strategy is a little hard for me to comprehend. Isn't it difficult to balance? Can this work for churches with smaller budgets? Brad's Pick One piece is a great  primer for the questions I have.
Next up, 30% of you are part of an attractional church. You look to create a welcoming place where people can come and hear what you have to say. This way, you have more control over the environment and messaging, and you don't step on toes, as people made the choice to attend.
The counter-approach, missional, makes up 13% of you. Your primary emphasis is going out to people. When you go out, people feel like you're being active about reaching and caring for them. Honestly, I'd have expected this number to be a bit larger.
Oh yeah, and 21% of you are doing no marketing at all. You're just doing your thing and hoping God tells other people for you.
So are you missional? Attractional? Both? Neither? What does that look like for your church? We'd love to hear more in the comments about what these words mean for you and your church.
Around Christmas, we're feeling reflective, so take a moment to let us know what your favorite article of 2010 was.