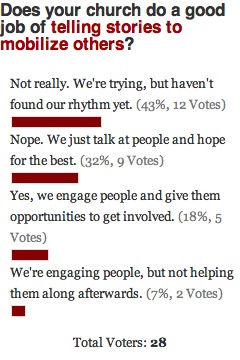 Recently, Nathan Davis recapped Echo 2010, and his big takeaway from the conference was the importance of local churches becoming better storytellers. So we thought we'd turn to you and see how you felt your churches are doing telling the story of the gospel. Here's what you had to say:
43% of you aren't doing a great job. You're giving it your best shot, but you just haven't been able to find your rhythm yet. Maybe you're struggling to understand your church's identity, or maybe you're grasping for who you're trying to talk to, but you're hoping to find more success in the near future.
Another 32% of you aren't doing a good job, and you're not even on the right trail. You just get up a couple times a week, talk at people, tell them how to live, and hope for the best. And my bet? It's likely not working too well. Perhaps the Church Marketing Lab would be a great place to start asking some questions.
The final 25% of you are doing a bit better. That's 18% of your churches that are both engaging people and getting them involved afterwards and another 7% who are engaging, but you're not lending a great helping hand afterwards. Either way, it sounds like you're at a place where you'd have a lot to offer the previous 75% of respondents. Let us know in the comments where you're finding success.
This week, we're taking things a little less serious and asking a question that's near and dear to our hearts: This blog has been around six years now. Just tell us one thing: Is your church committing fewer worship typos today than you were six years ago? Head over to the Church Marketing Sucks home page to vote.