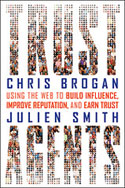 "Argh!" My wife slammed the phone down in disgust. I knew that I had to choose my next words very carefully.
"What happened?" I asked.
"Thy Kingdom Come!" she said. "Um, what?" was my benign yet puzzled reply.
"Thy Kingdom Come ministries! They won't stop calling me! I've asked them to take me off their mailing and call lists five times now and they won't do it. This is so annoying!"
The ministry she's referring to is a local organization that brings church and ministry speakers in from all over the world. They're also notorious for nabbing up people's e-mail addresses and phone numbers and ruthlessly pummeling those same people with marketing spam. This ministry holds your information hostage (even after you've opted out of their materials) and sends a non-stop torrent of information to every inbox they can get their hands on, hoping it converts to a "sale."
In short, the people in this ministry are not trust agents.
What's a trust agent? According to authors Chris Brogan and Julien Smith, they are people who have, "Established themselves as being non-sales oriented, non-high-pressure marketers. Instead, they are digital natives using the web to be genuine and to humanize their business. They're interested in people (prospective customers, employees, colleagues, and more), and they have realized that these tools that enable more unique, robust communication also allow more business opportunities for everyone."
Brogan and Smith authored a book by the name of Trust Agents to highlight what the new marketer will need to be like in the web 2.0 era (and beyond) if they hope to survive. Not only that, they also claim that organizations "can no longer hide behind the veneer of a shiny branding campaign, because customers are one Google search away from the truth."
The truth. What is the truth? About you? About your church or ministry?
The truth is that…
A trust agent doesn't boorishly push their own materials.
A trust agent is One of Us, a respected member of the community they wish to reach.
A trust agent builds relationships on the web with the hopes of giving more than they receive.
A trust agent "humanizes the web."
I think churches and ministries have a lot to learn from trust agents. Sure, churches aren't marketing a product, so to speak, but we're communicating a message. That constitutes the need to strategize in how to best communicate the message. This, by and large, is marketing.
Which is why we need to learn how to be trust agents.
How many of us in ministry can say that we're "trust agents" in our communities? Not self-labeled trust agents (that doesn't count), but trustworthy people as deemed by our communities? Further, how many of us in local churches and parishes can navigate the web, with all of its nooks and crannies, and become a credible spokesperson? A big task, for sure, but there are people already doing it:
Amanda Sims is a trust agent.
Leonard Sweet is a trust agent.
Cynthia Ware is a trust agent.
Tony Steward is a trust agent.
What will people find if they Google your church? Will they find a glossy, slick, well-designed website without someone "behind the wheel"? Or will they find a church that is full of a network of trust agents? People who reach out into the web community, "humanizing" the church for those who are far off.
Are your churches too busy dumping streams of information onto social networks like Twitter and Facebook to notice the prayer requests that trickle onto your church's fan page? A trust agent would notice and take action. Are you too busy to respond to the comments on your blog? Or worse yet, do you only respond to the comments from the "big names"? A trust agent would find time to respond to as many people as humanly possible. That's what a trust agent does.
Brogan and Smith state that businesses can no longer hide from the truth, so what makes us think that churches can? Trust Agents is a call to be open, to be human, to be honest and to deal in all things with integrity. In short, treat people like we would want to be treated. Funny, but I think I've heard that one before. Haven't you?