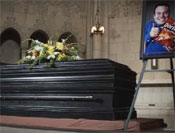 The commercials are by far my favorite part of the Super Bowl. The last couple of years have been pretty mediocre in terms of the million dollar ads, but I'm hoping this year is different.
Where the commercials have usually been made up of beer, cavemen and the GoDaddy girls, this year is different. This year one, and maybe two, commercials have connections to the church. And they're a study in opposites. One is a blatant commercial message for a consumer product–but it has subtle spiritual overtones and you wouldn't guess a church is behind it. The other is from a Christian nonprofit and has raised all kinds controversy.
Doritos & Mosaic
The first isn't out to save any souls directly, but it sure is a lot of fun. Erwin McManus and the team at Mosaic entered and are now in the top 6 for Doritos' Crash the Superbowl contest for their commercial "Casket".
While this commercial is certainly not what you'd expect from a church (which is why I love it) and you'll not see any scripture quoted in their spot, I do imagine it has already created quite a buzz around the church and community.
"We're not trying to use Doritos to propagate a message, but I think we want people to know that we have a sense of humor, that it's OK to laugh," McManus said. "So much of what comes out of the faith community seems so dour and somber and we want to say, 'Hey, we're real people. You can be a person of faith and really enjoy life and laugh."

Phil Cooke, says it well:
"Nobody's going to fall on their knees and accept Jesus as a result of this spot. But advertisers on Madison Avenue spend millions on a Super Bowl spot because they know it influences people. It might not get someone converted, but I think it will get someone to say, 'Maybe there is something I ought to investigate.'"

Focus on the Family & Tim Tebow
On the flip-side is a commercial (that was originally banned) that's stirred up a bit of controversy (subscription required) with its pro-life message. That message alone is very unusual for the Super Bowl, which typically doesn't give advocacy groups air time. The fact that Focus on the Family worked with CBS to create commercial that didn't slap people in the face, gives me hope that this will be a positive message and something the church can be proud of.
While I'm certain some pro-choice groups are upset that Tebow and the message are getting air time, not everyone in that camp agrees. Pro-choice advocate Sally Jenkins gives a tremendous response, even to the point of joining team Tebow:
"I'm pro-choice, and Tebow clearly is not. But based on what I've heard in the past week, I'll take his side against the group-think, elitism and condescension of the 'National Organization of Fewer and Fewer Women All The Time'."
Even Planned Parenthood's response was pretty low key.
Jesus Is Going to the Super Bowl
While not exactly church advertising nor the gospel story, these ads do shine light in their own unique ways into the biggest television spectacle of the year. It's encouraging to see Christians not sitting on the sidelines but taking risks and putting the message out there.
Go team!