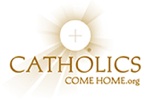 It looks like the Catholic church is ramping up their "Catholics Come Home" campaign. The LA Times reported that the diocese of Sacramento is "preparing to air several thousand prime-time TV commercials in English and Spanish, inviting inactive Catholics to return to their religious roots."
With less than 15% of Catholics attending church on a weekly basis in Sacramento alone, they're hoping this campaign will change the tide.
In addition to Sacramento, dioceses in Chicago, Omaha, Providence, R.I., and four other cities will launch the "Catholics Come Home" advertising blitz during Advent, the period before Christmas.
Some of the video ads are pretty moving, including the one titled "Epic."
We've covered some of these "We Are [insert denomination name here]" campaigns in the past, and this one from the Catholics is no exception. As Kevin said, "Maybe it's the denominational hopscotch I've played throughout my life, but a denomination doesn't define my identity. I'm a Christian, first and foremost." I agree that we are definitely moving beyond the times when our religious affiliation defined our status in the community.
In my opinion, the opportunity for denominations lies not in their ability to rally around a set of beliefs, but instead in their ability to rally people based on the DNA of the gathered tribe. In other words, beyond doctrinal beliefs, what makes XYZ Denomination tick?

For the Catholic Church, they're making pretty strong claims on how they've influenced the world over the centuries, but their message ends with the obvious ask of "come to this building on the weekend." Excuse me Catholic Church, but all of the claims you just made came not from weekend worshippers but weekday workers. Yes, church services do have their place for instilling Scripture, learning and listening to the Spirit of God, and for the community of Christ-followers. I'm not suggesting we do away with them.
I am suggesting that we understand what really defines us. The DNA of a denomination or tribe of people is beyond beliefs, it also includes behaviors. These behaviors are the reason why people continue to assemble (or not assemble).
It's a new day for denominations and it's going to take more than ad campaigns and catchy slogans for them to survive and thrive. It's going to take some serious soul searching for why and how they should exist.