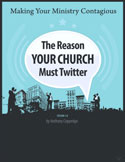 Anthony Coppedge recently released a $5 e-book entitled The Reason Your Church Must Twitter.
It covers everything from what in the world a Twitter is to how your church can make maximum use of Twitter in various flavors–from simply having public conversations to using Twitter as a devotional tool.
The book would be ideal for a pastor who is open to the use of technology but hasn't embraced Twitter yet. You'll hear uses of Twitter like driving traffic to your church site, increasing your web presence or supplementing your blog, so it's not ideal for the pastor who doesn't realize the value of the web.
Some churches are already doing this, and a few who have been successful (by various metrics of success) come to mind:
I'm sure there are plenty more, but those should give a little context for what successful Twittering can look like. And hopefully The Reason Your Church Must Twitter can get your church there.