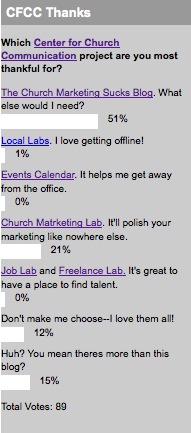 For a little bit of Thanksgiving fun, we thought we would see what offering of the Center for Church Communication you're the most thankful for. Here's what you had to say:
Not surprisingly, over half of you said this blog is your favorite. I think we can chalk some of those up to our poor statistical methods–it's not exactly fair that our sample consists completely of Church Marketing Sucks readers and visitors. Nonetheless, it is our most popular offering, so we weren't surprised to see it take the lead.
Running a not-so-close second is the Church Marketing Lab. Nearly 2,700 members in the CML make up a big portion of the folks who interact with CFCC on a regular basis. We're super grateful to have them, and we're glad 21% of you call the Church Marketing Lab your favorite CFCC offering.
After that, it gets a bit tighter. Well, at least with our two "non-answer" answers. 12% of you don't want to have to choose because you love everything we do. And believe us, we are flattered. Another 15% of you weren't even aware of anything other than our blog. Well by all means, why don't you check out what we offer?
There's a virtual tie between Local Labs, the Events Lab and the Job and Freelance Labs at 0-1%. Those are a bit more niche offerings, but if you're into developing relationships with local church communicators, attending conferences or staffing (either staffing your church or becoming staffed by a church), you'll really want to check those out.
This week, we need to know: Would your church consider hiring a mystery worshipper?