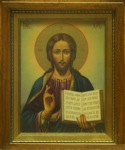 Last year at MinistryCOM, it was a delight to hear Shawn Wood's keynote titled "Brand Schizophrenia". Shawn is the experiences and creative communications pastor at Seacoast and a new author. And if that doesn't win most links in an opening blog entry here on Church Marketing Sucks, I don't know what does.
It was certainly not his main point of the day at MinistryCOM, but Shawn made a great observation about how Jesus was the first one to do a Zoomerang poll. In Matthew 16:13-16, Jesus asks his disciples what people are saying about him. He wanted to get a pulse for what everyone was thinking. "What are people saying about who the Son of Man is?" The disciples replied with some of the things they had been hearing. "Some think he is John the Baptizer, some say Elijah … "
Thankfully, Jesus didn't let the polls or the pollsters have the final word. Although he cared about what people were thinking, he cared more that they were thinking rightly. The right answer, as we hear from Simon Peter, is that "You're the Christ, the Messiah, the Son of the living God." Simon obviously checked the right box on his survey.
Surveys are a great way to get feedback on things that matter to you. They're also a great way for you to measure if the things that matter to you actually matter to the people you're polling.